The new CAME GARD series barrier implements all the recommendations of the new European standards generated by the new Machine Directives, with the objective of meeting the criteria of utmost modularity in terms of application and operations. It is available in the 230V A.C. motor and the 24V D.C. motor versions, the latter particularly ideal for frequent use.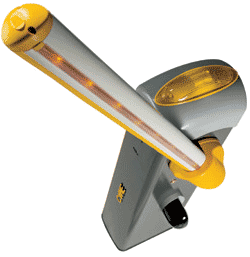 • For openings of 4 metres and 8 metres respectively.
• Integrated photoelectric cells and command selectors.
• Optional flashing lamp.
• Optional illuminated lighting strip can be fed down the entire length.
• Control panel is placed away from the mechanical parts giving easy
intervention whatever the circumstances.
• Tubular bar ideal for reducing the sail effect.
• Adjustments include movement and approach speeds
• Minimum opening time of 4-5 seconds
• Connections available for pre-opening and pre-closing flashing light
• Amperometric obstacle detection system in opening and closing
• Available in Zinc Plated coated steel and Stainless steel finishes.